Meet Diana Schaack: Early Care and Education Advocate and Researcher
Julia Cummings | School of Education and Human Development
Aug 10, 2023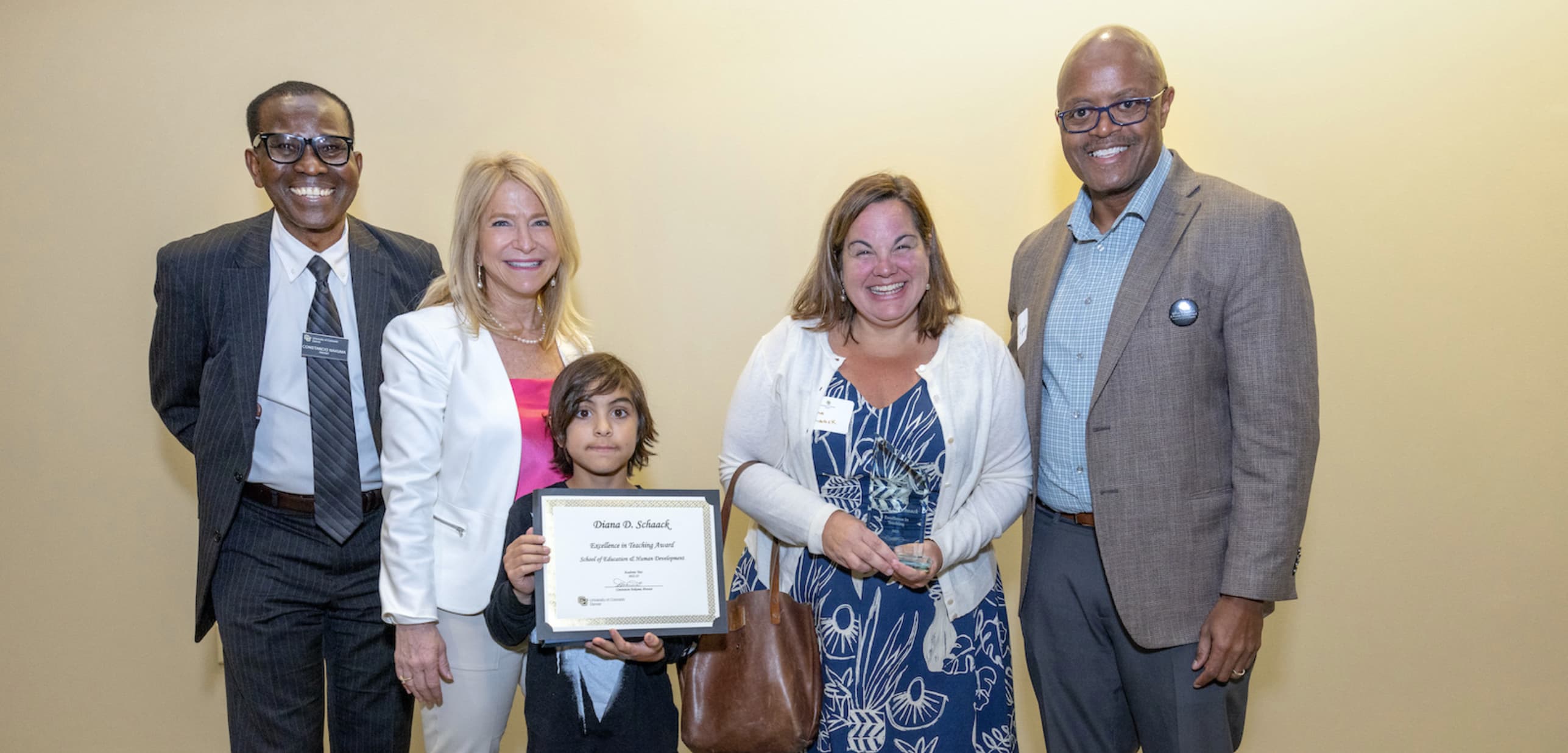 Diana Schaack, PhD is an assistant professor in the Early Childhood Education (ECE) program in CU Denver's School of Education & Human Development (SEHD) and recipient of the 2023 CU Denver Award for Excellence in Teaching for tenure-track faculty. Dr. Schaack is a community-engaged scholar whose research and advocacy are aimed at understanding and promoting evidence-based policy strategies that advance equity in ECE opportunity and outcomes, and that elevate the early childhood workforce to ensure that they can enjoy a long and fulfilling career in a field in which they are justly compensated.
Her weekends and evenings are spent with her son Ari (age 8), pictured above at the CU Denver teaching award ceremony with his mom and colleagues. Her weekdays revolve around many other priorities including teaching and mentoring students. She has secured millions of dollars in external grants and contracts to conduct applied research on ECE teacher preparation, ECE workforce well-being and retention, and on policies that seek to expand access to ECE. Many of these projects are conducted in partnership with states and local communities. Along with her close collaborator, Dr. Kristie Kauerz, associate clinical faculty in SEHD and director of the National P-3 Center, she is also developing an advanced course of study in early childhood policy to support the development of the next generation of ECE policy leaders, advocates and scholars.
"Teaching and mentoring the next generation of leaders fuels me," said Schaack. "Watching them develop a spark, an interest in their own research, or develop a vision for the impact that they would like to make in the field has truly been a joyful experience. At the end of the day, I strive to be my students' biggest champion."
Like many SEHD faculty members, she began her career as a teacher. Upon finishing her undergraduate degree and working as an ECE teacher, Schaack soon saw how fragmented the early childhood system in the U.S. was. Unlike K-12 education, ECE is not considered a public good, and many families must pay high tuition costs for childcare/ECE. The different public funding sources for ECE that are available are not coordinated and are not enough to meet families' needs. As a result, children's experiences in ECE vary widely in quality based on ECE funding source. This results in many children not having access to developmentally supportive programs. And just like thousands of other ECE teachers, Schaack soon realized that she could not earn enough money as a teacher to be able to stay in the classroom. As Schaack's research has helped to illuminate, the average ECE teacher in most states makes such low wages that they either qualify for public assistance or have to take a second job to make ends meet.
"I couldn't afford to stay in the classroom because of the low pay," said Schaack. "So, I continued my education in hopes of being able to participate in helping to address these persistent problems in the field that contribute to disparities in ECE opportunities and outcomes, and that drive ECE teachers from the field. My goal was to become a researcher who worked at the intersection of research, policy, and practice."
Schaack is an unwavering advocate for the ECE workforce. "I'd like to stand for helping to elevate the profession through research and policy advocacy that helps to build and support a well-prepared, well-supported, and diverse ECE workforce whose members can build a long and fulfilling career in the field," she said. "That's not happening right now in ECE," as record numbers of teachers are leaving the field. She helps to do this by conducting research that identifies the working conditions and policy strategies that are effective at retaining teachers and by working with states to use research to help inform their investments in supports for early childhood educators.
I often hear people in my field say, "We have a crisis in our workforce; we have a shortage of ECE teachers." In Schaack's advocacy efforts, she tries to challenge this narrative by reframing the problem. "The crisis is with funding. What we have instead is underfunding in ECE, which has created a lack of jobs in ECE in which teachers can earn a living wage and can stay and build a career, so they leave the field," said Schaack. "We need to take the problem off of the workforce and put it where it needs to be, which is on public policy."
Schaack's research portfolio is wide, from projects driven by the needs and burning questions of state and local communities to research involving large federal grants. For example, Schaack is partnering with NORC at the University of Chicago to study the long-term outcomes of children who participate in the Denver Preschool Program and the cost-benefits of the program. It is one of the first studies of its kind to rigorously examine how providing families with tuition credits to attend high quality preschool can expand preschool access and improve children's early academic outcomes.
Schaack also has a grant from the Institute of Education Sciences to study preschool teacher preparation. The study is attempting to better understand the range of educational preparation community-based preschool teachers have, and to explore how the content of coursework they have taken, including the breadth, depth, and comprehensiveness of courses of study are related to teaching and learning outcomes. Schaack and her study partners at NORC and the RAND Corporation are trying to identify effective courses of study to help inform ECE teacher professional development and licensure systems.
In addition to studying ECE teacher preparation, her work also focuses on innovating in higher education to remove barriers to degrees and certificates for the ECE workforce, many of whom are first generation college students who pursue higher education while working in the field. With Dr. Kristie Kauerz, Schaack received a grant from the Early Educator Investment Collaborative to seed innovations in higher education. They developed a consortium of colleges and universities across Colorado that are working toward expanding rural access to BA degree programs, developing shared credit for prior learning processes across IHEs to make degrees more efficient and affordable, making credits across Colorado's public IHEs portable, and enhancing courses of study in ways that are responsive to the children and families served in Colorado's ECE programs. Together they are also working with the Colorado Department of Higher Education, the Colorado Department of Early Childhood, the Colorado Department of Education, and Governor Polis' Office to advance policy efforts to make degree attainment more accessible and efficient and to increase the diversity in the field.
Schaack and Kauerz are particularly excited about the next phase of their work together — developing an advanced course of study in early childhood policy at CU Denver. "It's an important time in ECE in many states and we need to develop the next generation of policy leaders and researchers who can continue to tackle these persistent challenges in the field." In 2020, Schaack and Kauerz received a grant to participate in a national consortium of six universities to develop EC Policy as a course of study. As a result, CU Denver recently launched a PhD concentration in the field, and Schaack and Kauerz are busy at work developing a graduate certificate program.
Schaack encourages those who might be interested in pursuing a PhD and who are interested in conducting ECE policy research and fostering systemic, institutional, and equity infused ECE policy change to apply. We have fellowships and graduate assistantships available for students interested in preschool policy, in P-3 (preschool-through 3rd grade) reforms that engage state and local education agencies, and in early childhood teacher preparation and well-being. Several graduate fellowships are designed to support BIPOC students who have been historically underserved in doctoral education. Please email kristie.kauerz@ucdenver.edu for more information.