Sheldon Reynolds, DPS Principal and Key CU Denver NxtGEN Teacher Residency Program Partner, Named Colorado Outstanding Elementary Principal of the Year
Apr 14, 2022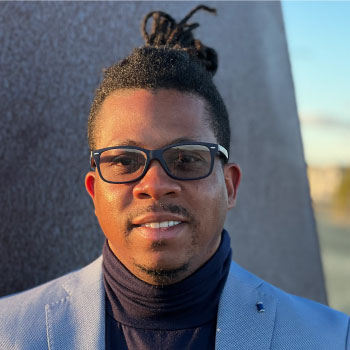 DENVER – The Colorado Association of School Executives (CASE) and the Colorado Association of Elementary School Principals (CAESP) are so pleased to announce the selection of Denver Public School District's Sheldon Reynolds as the 2022 Colorado Outstanding Elementary Principal of the Year. Reynolds, who is principal at the Center for Talent Development at Greenlee Elementary School (CTD), was selected by a committee of his peers through a competitive process facilitated by CAESP.
Within just a few minutes of talking with Reynolds about his role as a public education leader, its clear that he is innovative and tenacious in his pursuit of building and sustaining a school culture with a strong degree of inclusivity and buy-in from students, staff and families. He came to the school as principal in 2015 when it was Greenlee Elementary and in its fourth and final year on CDE's Accountability Clock. Greenlee was scheduled to close because of the length of time it had been on turnaround status, but within months, Reynolds' efforts to improve and revitalize the school were proving so promising that Denver Public Schools began to invest more resources into his efforts and sponsored him to create a new school model. In 2017, the new Center for Talent Development at Greenlee Elementary School was opened. By 2019, CTD was off the state accountability clock and received the highest School Performance Rating of any school in the northwest region of DPS.
"He has such strong emotional intelligence," says DPS Northwest Region Instructional Superintendent Jennifer Troy. "(He) takes on the right work at the right time, knowing what people can handle and what will have the greatest impact on the students in his school while retaining the experienced team in the school he leads. He talks about the importance of building a strong foundation and house that can weather any storm, and that is the school he has led his team to create at the Center for Talent Development."
One of Reynolds' first moves as CTD principal was to create the school's Talent Development Model, which was intentionally designed to address the inequities around gifted education. Reynolds worked closely with DPS' gifted and talented education department to create a universal GT program tailored specifically to meet the needs of students of color, English language learners and students in poverty. GT practices are now used in every classroom, elevating the rigor of instruction for every student, and also instilling a greater sense of empowerment and pride for students and teachers alike. In fact, CTD has partnered with the University of Colorado at Denver to become a Teaching Academy school center-around providing this approach to learning with pre-service teacher candidates.
Said the leaders of the CU Denver Teacher Residency Program and CU Boulder Bueno Center for Multicultural Education, "With the understanding that the standardized test to recognize giftedness is significantly limited due to cultural biases, (Reynolds) focuses on professional learning for his staff so that teachers are providing the gifted curriculum to all students, developing their already present talents. This strategy ensures that whether students formally qualify or not, the teachers and leadership are still committed to identifying children's' talents and teaching as if they were formally identified as gifted."
The pride Reynolds takes in CTD is matched only by his humility in talking about his accomplishments as its principal. "One of my favorite parts of the day is walking through the halls and I see the photos on the walls taken the first year the school was open. It's such a powerful reminder to me of how far we have come by working together, and how much farther we will go in the future as a school community."
Reynolds' leadership has proven so impactful that he was asked by the district to serve as a mentor to other DPS principals, a role in which he acts as a peer coach who helps fellow school leaders clarify their vision and goals for their school and implement a strategic plan to reach those goals.
"Sheldon cares about his students, ensures their individual needs are met, and has done an outstanding job of creating an amazing culture at CTD," said Dr. Alex Marrero, superintendent of Denver Public Schools. "He is a fearless advocate for equity, social justice and inclusivity and is relentless in his pursuit of excellence for his students. Sheldon leads with perseverance, effectiveness and dedication to students, families, and team members. This recognition is so well-deserved."
As the 2022 Colorado Outstanding Elementary Principal of the Year, Reynolds will be recognized at the Annual CASE Awards Reception later this month.